When it comes to designing a logo, it's a decision that always needs to be made — logomark or logotype, which one to choose? Maybe it's asked in a different way, "Will we get a symbol or just text for the logo?" To answer this question, it helps to understand the benefits of each option.

In this article we will explain the difference between a logomark and logotype. We'll also consider the advantages of each, and finally talk about how you can have the best of both worlds. Let's start!
What's the Difference?
Some logos use a symbol or iconic mark to tell their story, these are called logomarks. Others rely on type alone, these are called wordmarks or logotypes.
There are additional kinds of logos such as monograms, emblems, letterforms, and mascots, but logomarks and logotypes are the most commonly used and what we will focus in on with this article.
The Logomark — A Powerful Asset
An iconic logomark is a powerful asset for a few reasons. First, if the design is simple, it can be reproduced at small sizes needed for web, social media, and apps. This is critical in the digital space we live in today because the application of logos continues to get smaller — even in the face of a smart watch.
Logomarks also lend themselves to further brand development. Especially when a logomark is designed geometrically, it can become the starting point of a pattern repeat or brand device. Since familiar elements of your logo are used to create graphics with the same aesthetic, it helps to strengthen your overall visual identity.
Over time logomarks can become highly recognizable without the need of using any words or names. Think about the Apple logo or the Nike swoosh. Without any text needed, you immediately know who they are. Of course, it takes time to gain this kind of instant recognition.
Lastly, logomarks can help influence the colors of a brand identity. For example, if you design a symbol incorporating a flame, it will probably effect the color palette used for the overall identity.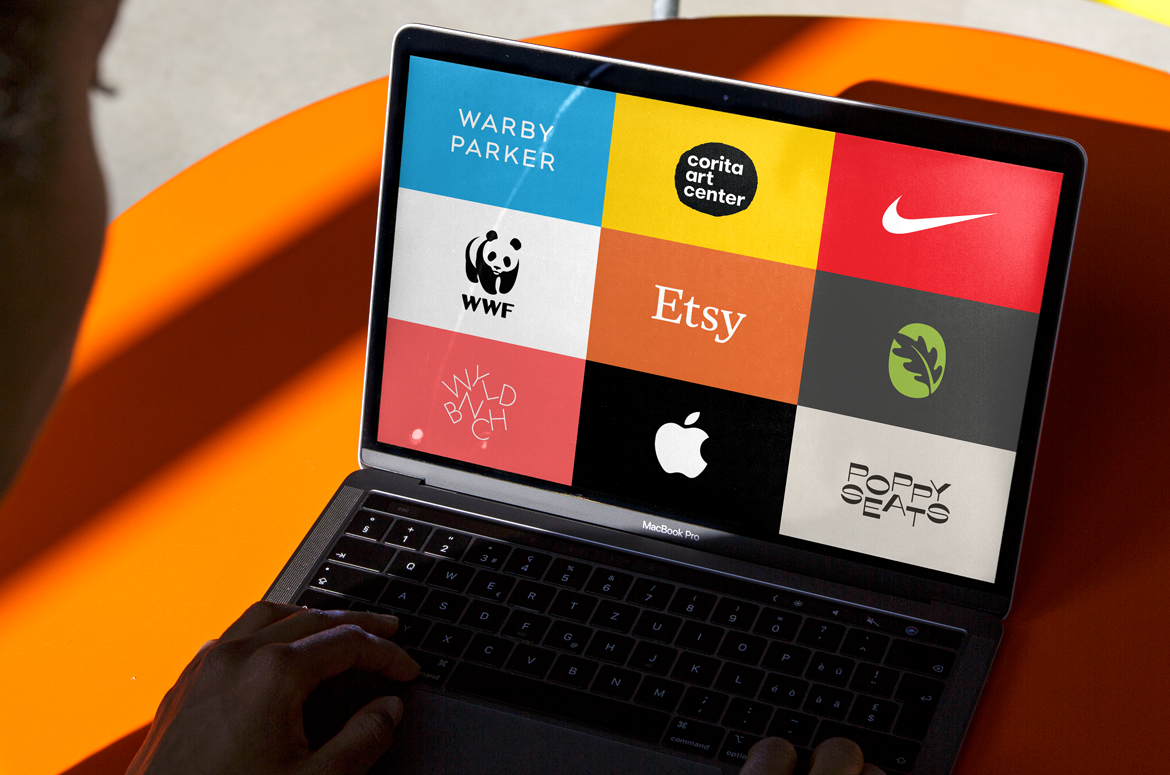 The Logotype — An Effective Tool
Now that we've covered some of the benefits of logomarks, we'll look at the other side. Logotypes are an effective tool for a few reasons, the first is name recognition. They can more easily imprint the brand name into peoples minds, especially if the company is new. This is helpful when people are not yet familiar with it.
Depending on the typeface, using text alone can sometimes feel more "lifestyle" and less "corporate." Consider brands like Warby Parker and Etsy who simply use type and color to differentiate themselves.
Don't think logomarks can't be expressive! When a visual concept emerges, some may jump right to making a symbol out of it. Remember, the letterforms alone can be used to express movement and personality, and since it's unexpected, it may be even more striking than a symbol.
Logotypes can integrate custom elements into the letterforms that become highly recognizable. Angles, cuts, curves, ligatures, and shapes can be incorporated into the letters to create distinctive logo solutions.
The Combination Mark — Best of Both Worlds
Some logos straddle the line between being a logotype and a logomark — enter the combination mark. These can be the best of both worlds! First, you have the joined power of both a symbol and text doing double the work to reinforce your brand.
Incorporating a symbol or customized shape within the logotype also offers an unusual and delightful surprise which is unforgettable. For instance, most people are not used to seeing the letter O emblazoned with a leaf. When they do, it's something they just can't forget.
As mentioned earlier, it takes time and money for a company name to be recognized using just a symbol alone. Combination marks help this process by incorporating a symbol with the name. Maybe in the future, the symbol will be so well known the text can be removed. For now, let them help each other.
Technically speaking, combination marks can be integrated together or used separately. When they are integrated you get the best of both worlds.
Which One Is Right for You?
Every company and organization has different needs when it comes to branding. Whether to use a logomark, logotype, or even a combination mark requires careful consideration about how the logo will be used, differentiation from competitors in the same field, and creative ideas that surface during the design process.
If you'd like to team up and consider this question together, let's talk.