Color May Vary
Naming + Brand Identity
Color May Vary is the largest digital guide of its kind, celebrating the array of Black-owned beauty and wellness brands in the industry. It includes over one thousand searchable and categorized brands.
Due to a lack of diversity found in the beauty market and department stores, Color May Vary set out to develop the ultimate guide for all beauty enthusiasts to find top-quality Black-owned brands.
When we started, the company did not have a name, so we began with a naming exercise. We were aiming for a name that was celebratory, memorable, and expressed the spectrum of skin and hair that was not being equally represented in the industry. We landed on Color May Vary and it fit the criteria.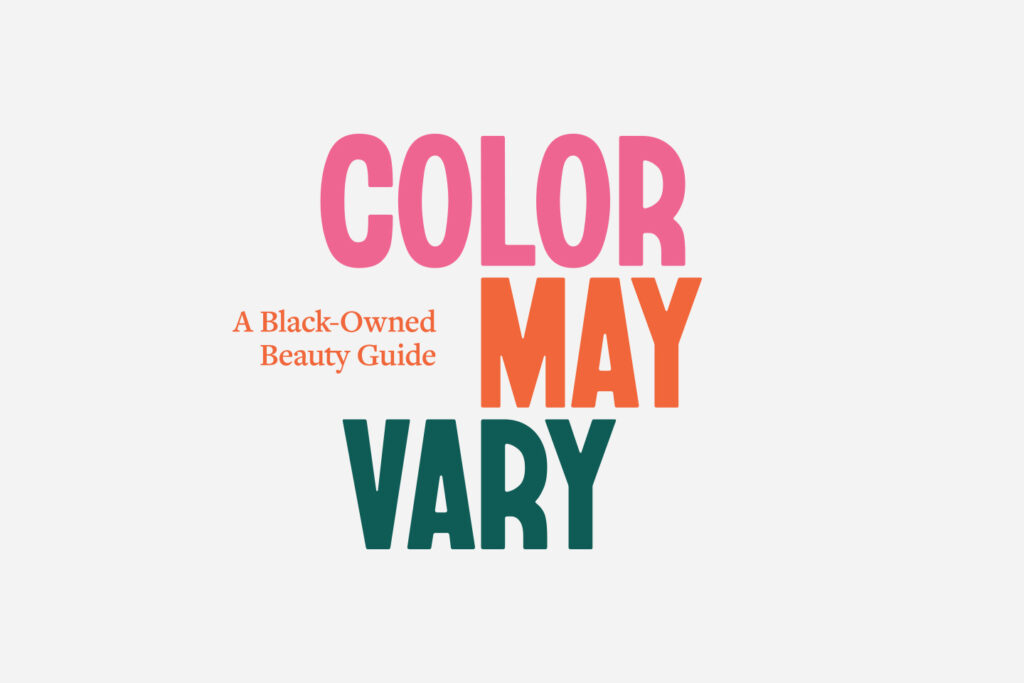 Logo + Identity
The varying alignment in the logo depicts the sentiment of the name. We customized the typeface Bayard from Vocal type foundry for the logotype. Bayard is inspired by signs from the 1963 March On Washington. It's paired with the font superfamily Freight (Text, Sans), designed by Joshua Darden.
An improvisational brand device based on shapes and shades adds movement and spontaneity to the identity. Inspiration was drawn from the quilters of Gee's Bend who carry the tradition of quilt making in the American South. The colors are a rich combination of a festive pink, glowing orange, and refreshing green. an identity package was developed including a brand usage guide, business cards, and social channel designs.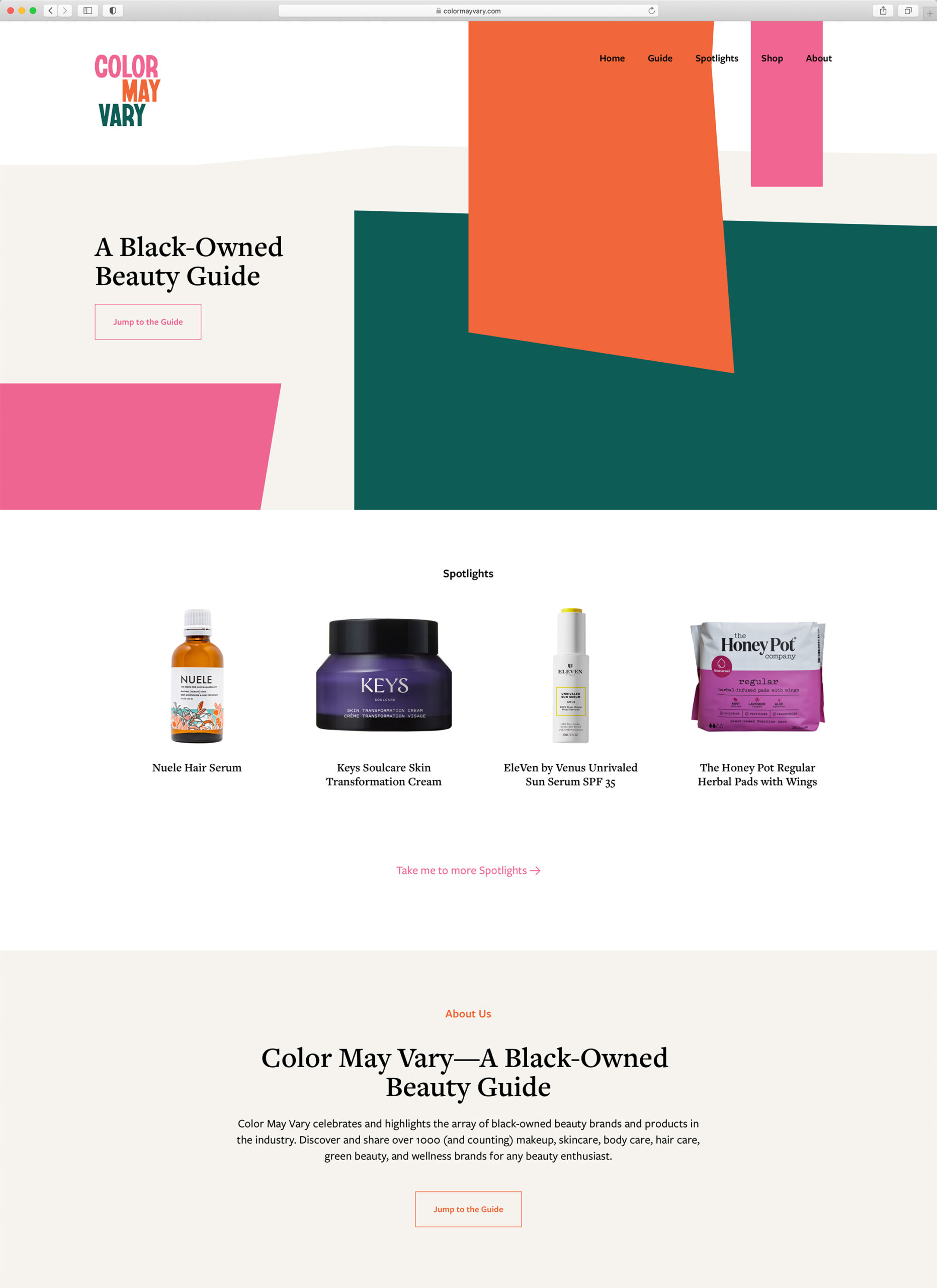 Website Design
The main feature of Color May Vary is an online guide with over 1000 beauty brands for viewers to discover and share. We wanted the site to be simple, direct, and to accomplish the task of organizing hundreds of brands in a way that's easily searchable, categorized, and intuitive. There are top-level categories as well as subcategories for the alphabetized list. A user can also search brands, products, and skin conditions to find what they're looking for.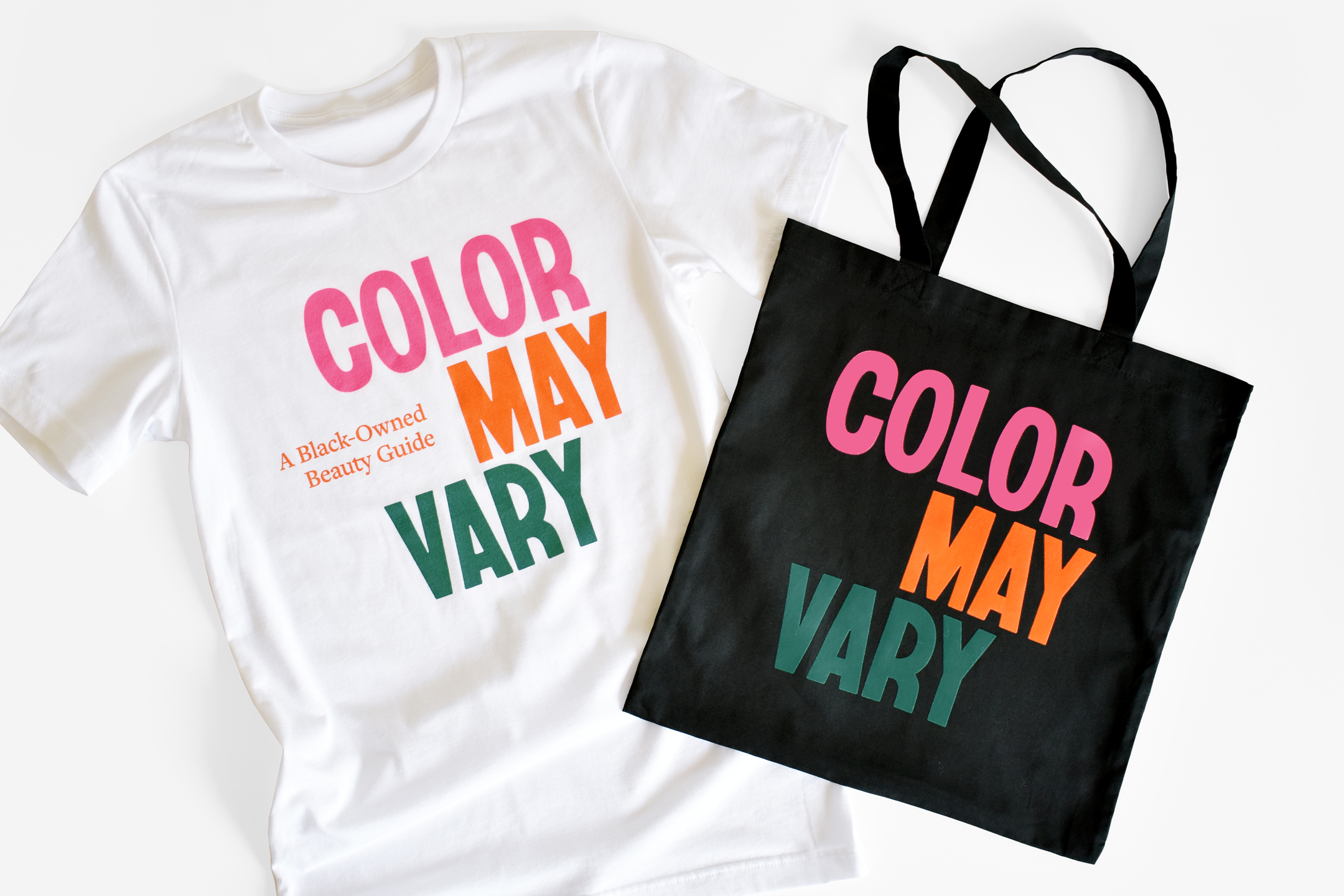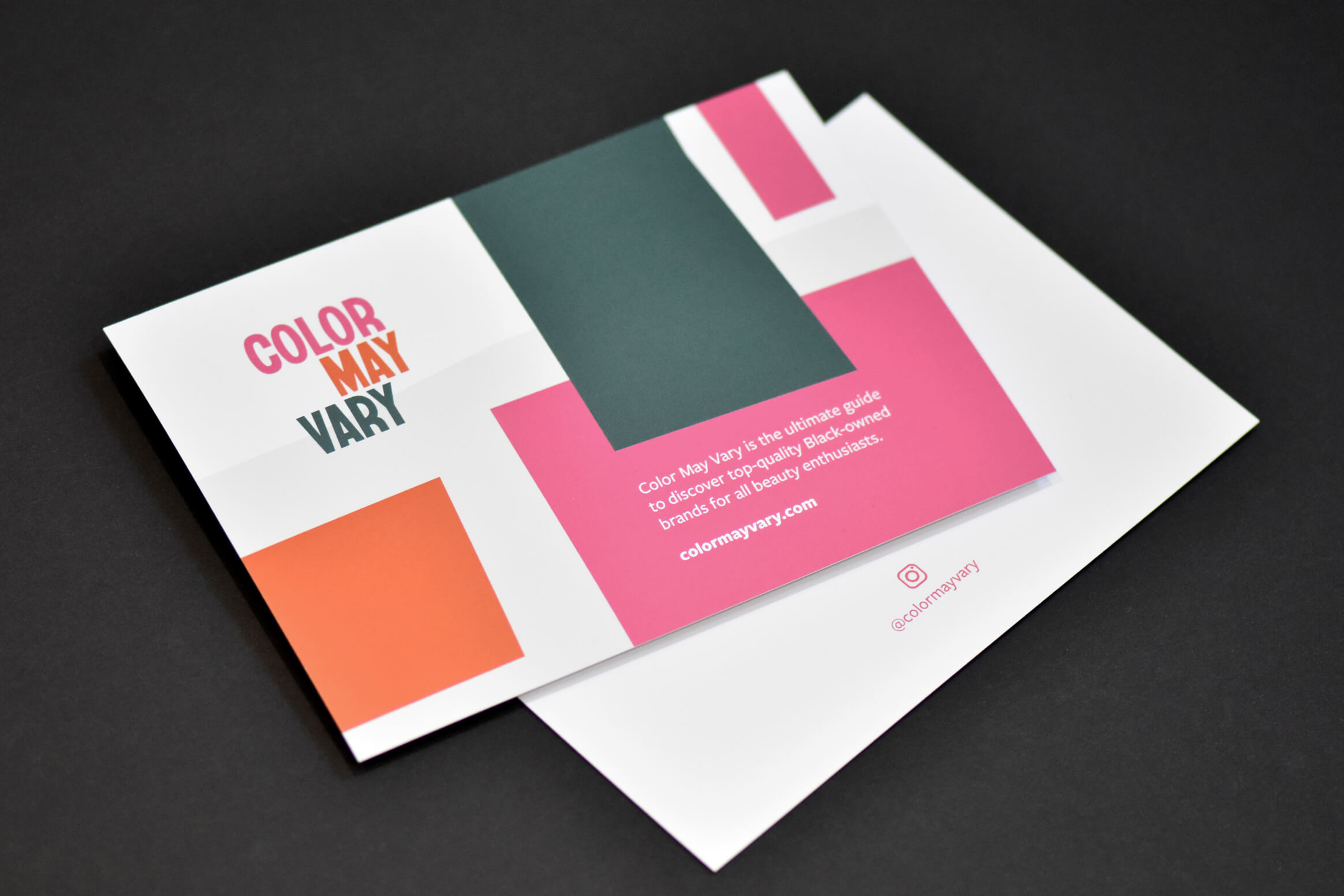 Merchandise + Social Media Strategy
What's a company these days without merch? A number of products including apparel, flyers, and stickers were designed to promote the new business.
We also developed a brand style guide and social media strategy including brand pillars, post types, photography art direction, and graphics to populate their various channels.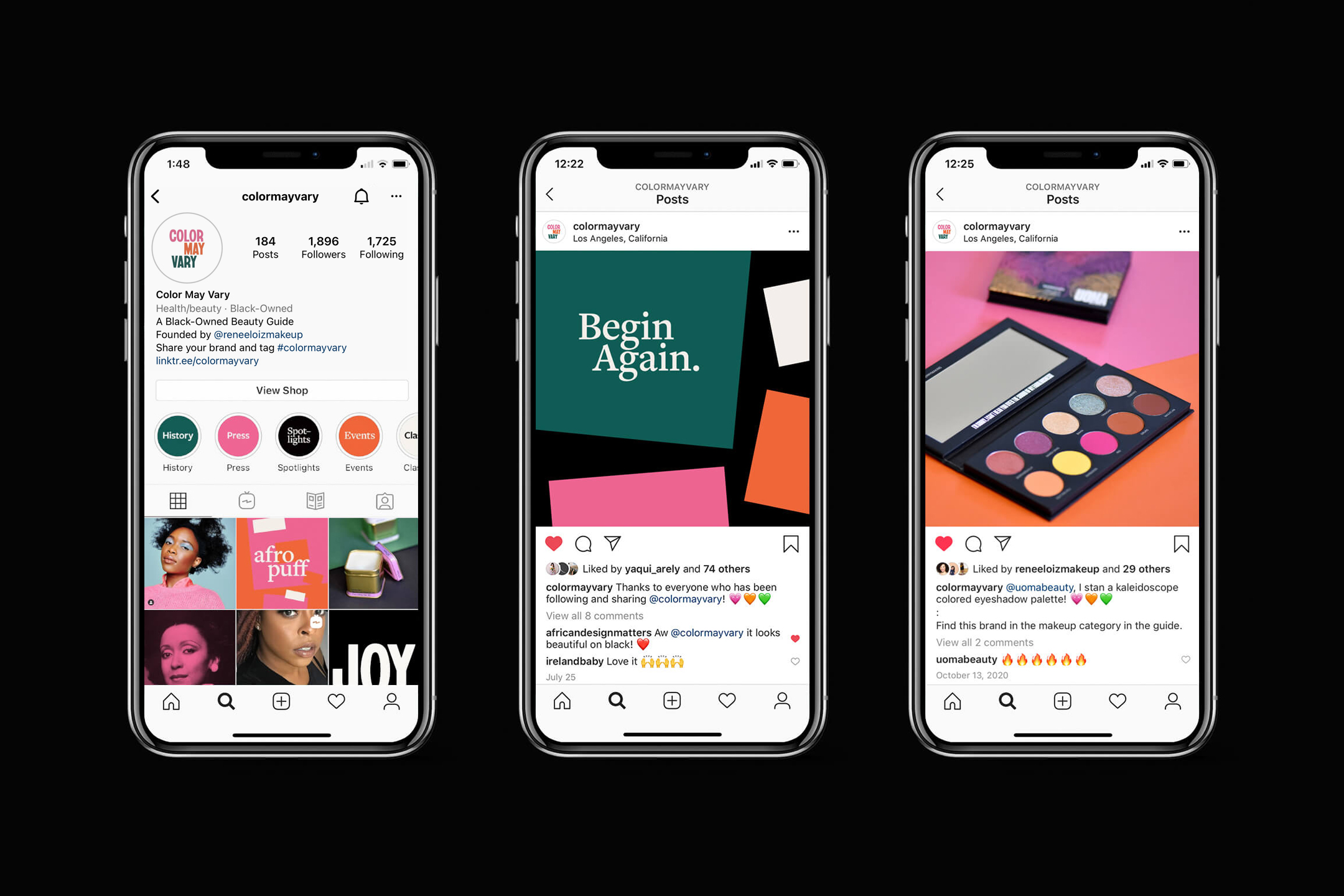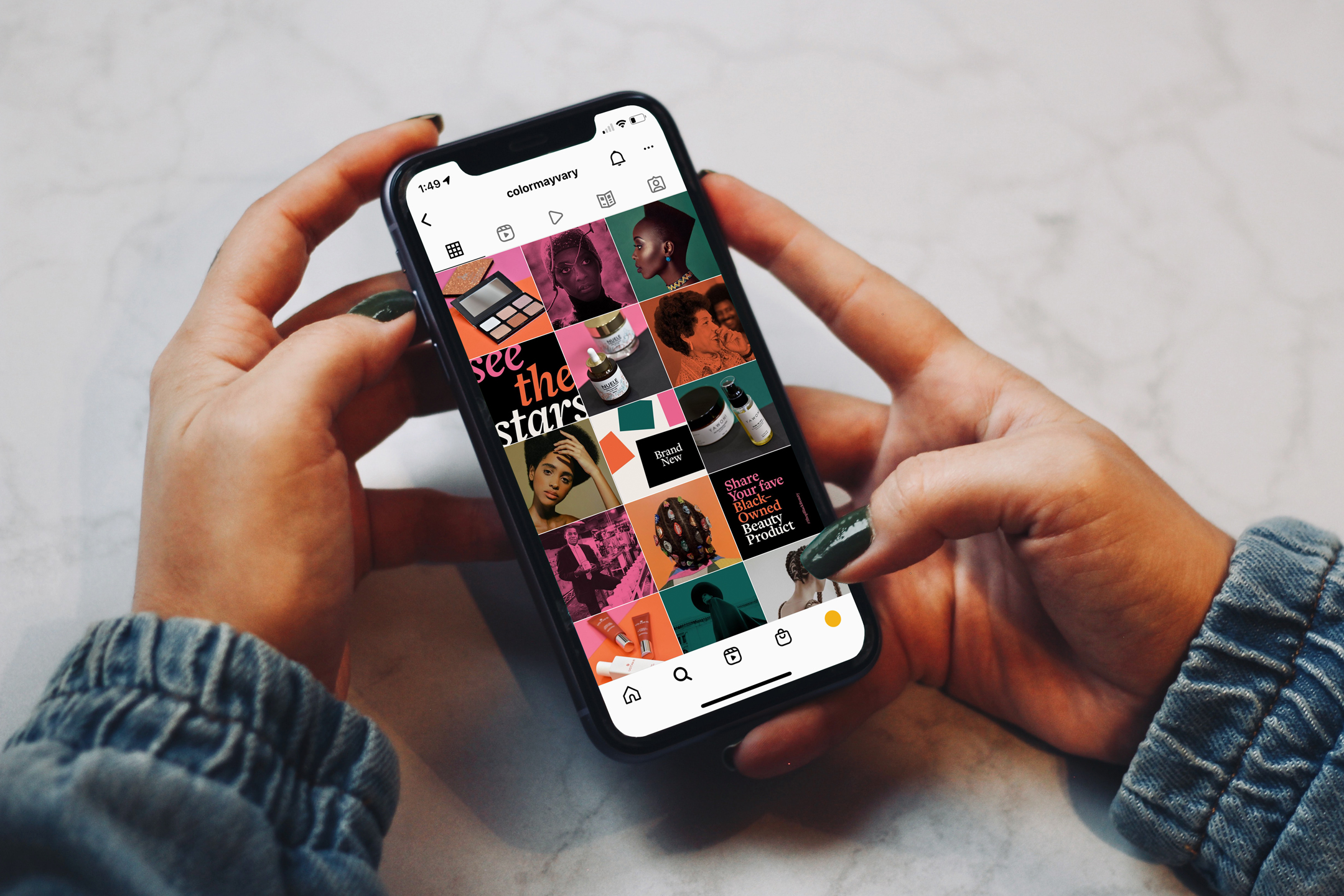 Recognition
The company quickly began to receive recognition in both the beauty and design industries. In August of 2020, Color May Vary was featured in the Spotted category of Brand New by UnderConsideration, and by December was awarded in Refinery29's Beauty Innovator Awards. CMV was also recognized in 2021 by Ulta Beauty in an initiative to celebrate inspirational Black voices.