Have you ever wondered, what is a brand style guide and how is it useful? Maybe it seems like a project "add on" that's not necessary. Or you're just not sure how you or your staff will put it to use.

In this article we will discuss what are the contents inside brand style guides. We'll also learn how they can be an essential resource when working with external partners and to assist with internal company alignment. Let's jump right into it!
What is a Brand Style Guide?
Brand style guides come in many shapes and forms, from PDF documents and printed books to digital interactive websites. Still, their purpose is the same—to organize and define a company's look, feel, and personality, in a way that can be easily used by employees and contractors alike.
They're essentially guidelines or "rules" outlining how to (or not to) use the various elements of an identity. This may feel like a straight jacket to some, but it's not meant to be. Style guides are meant to help your visual expression stay consistent, while providing tools to bring your brand to life.
So, What's Inside?
In order to orient the reader, brand style guides often begin with information about the organization or company. This might include their mission and biography as well as introduce the purpose of the guide and how to best use it.
Style guides also have a section defining logo usage dos and don'ts. A well crafted logo will come equipped with various "lock-ups" or compositions. There may be a stacked version, a one-line version, or even an option to just use a symbol by itself. These approved lock-ups are presented, along with how not to use the logo.
In the future there may be people with various levels of technical skill handling your logo. I've seen logos stretched, pulled, and even refashioned with all kinds of special effects—yikes! Believe me when I say, these simple dos and don'ts will be a help.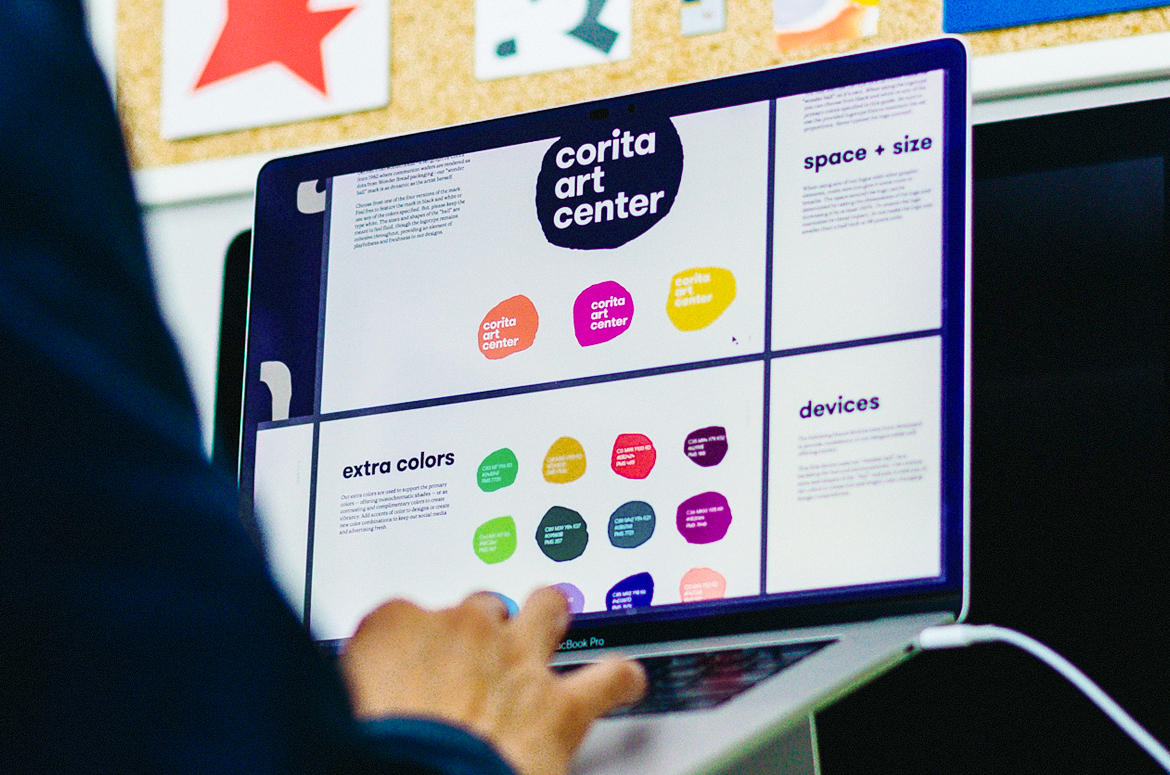 It's critical to keep the colors of your brand consistent. Style guides take into consideration how your colors will appear in print as well as in digital applications like the web. It will list out how to get your hues just right using color models like CMYK and RGB or HEX colors, and also the Pantone® matching system for printing. This information is extremely helpful for printers or web developers who need to ensure your materials stay on brand. Similarly, the guide should include your selected brand typefaces for print and web, and where to find them.
Another section you may see in a brand style guide is related to personality or voice and tone. Gathering this information requires a deeper dive into the heart of the company, and might involve a collaborative discovery workshop. These details help put into words, nuances of your brand that are hard to communicate or visualize.
Lastly, more robust brand style guides will show additional elements such as iconography, photography, brand patterns, illustration styles, and social media strategy, as well as applications or design mockups. These provide examples of how the various elements of the identity will work together and show up in the real world.
External Engagement
When you engage with external partners, style guides facilitate an understanding of your branding. They're not thinking about it every day you like you are. For example, a printer is not certain your yellow is this one and not that one, unless they are provided with that information. An app developer may need to use additional shades other than your three primary colors. Which ones align with your brand identity? All of this can be solved by sending along a brand style guide.
Some businesses enter into brand partnerships with other companies or have affiliates. In these scenarios style guides can help define logo usage or flexibility when in a collaboration with another brand.
Internal Alignment
Brand style guides can also help with internal company alignment. When there's a document or resource that everyone can refer to, it takes a lot of the guess work out of what can seem like endless design and communication decisions.
Speaking of the usefulness of brand guidelines, Andrew Greene of the Corita Art Center said, "Ben helped us create a resource that not only saves time when we work with external partners, but has helped to shape our identity and culture internally. The workshop with Ben helped us better define our goals as an organization, and he fluently communicated his methodology to gain buy-in from our entire team."
An Essential Guide
Brand style guides are surely not just an unnecessary project add on. Instead, they're an essential guide to help keep your brand expression consistent, facilitate clear external engagement, and create positive internal alignment.
If you've been experiencing any of the challenges mentioned here, or have been considering developing a guide to provide clarity for your brand, let's work together.